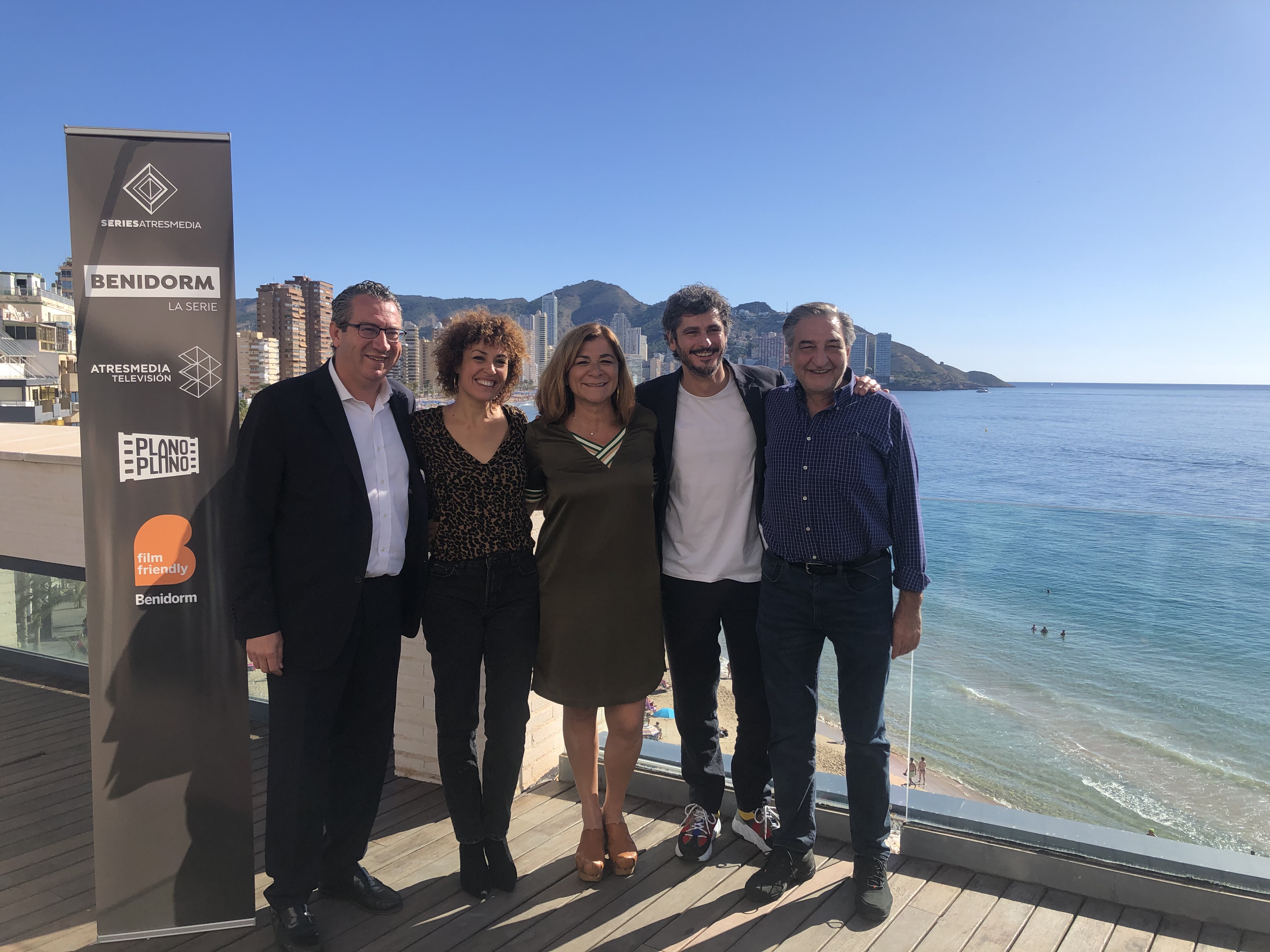 BENIDORM | Antonio Pagudo and María Almudéver will be its protagonists
The new fiction finishes its casting and will begin its recordings next November.
Madrid, 25 October 2019
The actors Antonio Pagudo and María Almudéver will be the protagonists of 'Benidorm', the new original series of Atresmedia Televisión for the prime time of Antena 3. The fiction, produced in collaboration with Plano a Plano, is in the final casting process and will begin recording next November.
The new series of Antena 3 will make the city of Benidorm the epicenter of its shooting, which will be carried out entirely in real locations in the city.
Benidorm' is created by César Benítez, Fernando Sancristóbal and Jon de la Cuesta. Sonia Martínez and César Benítez are the executive producers of this new series of Antena 3. Jacobo Martos and Miguel Conde will be the directors of 'Benidorm', while Fernando Sancristóbal and Jon de la Cuesta will lead the script team.
This Friday the names of the two protagonists were revealed in a presentation organised in Alicante by Benidorm Film Office, Benidorm-Visit Benidorm Tourism Foundation and which was attended by the two actors, the executive producers of the series (Sonia Martínez and César Benítez) and the mayor of Benidorm, Antonio Pérez.
Declarations
In this act, Sonia Martínez, executive producer of 'Benidorm' and director of Fiction of Atresmedia Television, referred to the implementation of this new project of the Group:
"One of the hallmarks of the Atresmedia series is to reflect features and cultures found throughout the Spanish geography; the place where the stories happen is also part of our series. We believe that this is an added value that differentiates our productions and gives them personality, as we have already demonstrated with 'Presunto culpable', 'Mar de plástico', 'Fariña' and, especially, with 'Ahí abajo', one of our most successful series. That's why it was clear to us that this new project had to go out again and make another character out of the environment. And, in this sense, Benidorm is a city that fits perfectly to our idea and in which, moreover, we are finding all the facilities to be able to start it.
The head of the series Atresmedia Television has also taken to endorse his good tuning with Plano a Plano: "It is also a guarantee to address this project by the hand of Cesar Benitez and his team Plano a Plano after the many satisfactions that we have taken with 'There Down'.
For his part, Cesar Benitez, executive producer of the series and president and founding partner of Plano a Plano, said: "After the success of 'Down There', a comedy based on culture shock and dialogue humor, in 'Benidorm' we intend to tell a story where humor is in the situation, in the moments that live the characters, rather than in contrast. In addition to being a comedy, 'Benidorm' will talk about many issues, such as second chances, love or true friendship.
Benítez added: "From the beginning we were very interested in recording in Benidorm, as it is a very special city. In addition to providing a great mix of cultures and a unique and singular environment, we want to show that hopes can be seen there come true.
The mayor of the city, Antonio Perez, said during the presentation that "'Benidorm' is a fiction that has values that conjugate very well with the city, as both seek to generate happiness, one in the audience and another in the millions of tourists who choose it.
That's 'Benidorm'
Xabier Zurita is a Basque notary with the appearance of a Basque notary. His life is as square as his shirts. Single, he does not seem to ask more of life than the small pleasures of his routines. But everything changes when he receives unexpected news: a tumor that grows in his head is going to kill him in less than three months. Surpassed by the news, Xabi is unable to share it with his friends and makes the first unforeseeable decision of his life: he packs his bag and heads for Benidorm. The place where his happiness was fuller than ever. The place where he met his first and only love: María Miranda.
As soon as he arrives in the city he settles in the Hotel Benidorm with the mission of looking for that girl he last saw years ago. Saddened by his terrible illness and by not finding Maria, Xabi drowns his sorrows in alcohol in the hotel bar, where he tells all his misfortunes to Tony, a stranger who was passing by and who is stunned by Xabi's confession: he has saved three million euros.
Neither short nor lazy, Tony runs to see his girlfriend, Candy, a girl who works in a strip club with hope.
Translated with www.DeepL.com/Translator (free version)